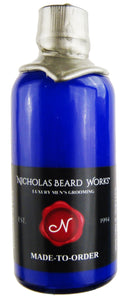 NBW Anti-Aging oil for a healthy radiant skin for men and women
NBW Anti-Aging Oil For A Healthy Radiant Skin For Men and Women
Squalane oil (France) Organic, cold pressed, made without pesticides, GMO's, or hexane.  Squalane is a light and stable version of olive oil squalene, hydrogenated to make it stable and non-oxidative. Squalane is found naturally in the sebum of human skin and is believed to lubricate and protect skin. It is an elegant emollient with exceptional spreading properties. Moisturizing your hair will help increase shine and prevent breakage. Hair has its own natural oils. Yet, weather, age, diet, and heat damage can dry out locks. Squalane will replenish your strands and protect your hair from further damage.
Cloudberry (Norway) is native to the northernmost parts of the world, from Norway to Greenland. The oil is derived from the seeds inside the berries. Cloudberry oil is extraordinarily high in Vitamin C, a popular beauty ingredient in long known for its skin-saving properties. Vitamin C protects the skin from free radical damage caused by harmful sun rays and pollution, while also brightening hyperpigmentation and boosting collagen production. These Nordic berries are full of omega-3 and omega-6, two fatty acids which can help control acne, fight inflammation, and minimize fine lines. Cloudberries and their seeds are great sources of Vitamin E and carotenoids, more powerful antioxidants that protect against skin damage brought on by the sun and other environmental factors, like pollution—and can help strengthen the skin's protective barrier. For those suffering from dry and flaky skin, cloudberry oil can help seal in moisture, smoothing rough patches and giving you a fresh complexion..
Acai Berry oil  from the Amazon oil is rich in antioxidants, the free radical fighters and anti-aging warriors. The powerful anti-inflammatory properties will help keep your skin looking younger, and the fatty acids in Acai oil will help keep your skin tight. Acai berry oil is antibacterial and has a high absorption rate that can improve your skin's elasticity and help relieve painful splitting or cracking in your skin and provide relief for other conditions such as psoriasis and acne. Acai berry oil can assist with unclogging pores and aiding in skin cell regeneration. It's loaded with nutrients, vitamins, and minerals - the building blocks of healthy, happy skin. These vitamins include Vitamin A, Vitamin C, B Vitamins, Calcium, Magnesium, Zinc, Copper, Anthocyanins, and flavonoids. Acai berry oil is a rich source of omega-3, omega-6, and omega-9 fatty acids, which can help revive dry, tired-looking skin.
Anti-aging and defense shield (Switzerland) derived from the lower depth sea kelp acts as a DNA protector after UVA/UVB exposure, has an ability to inhibit the formation of "Sun Burn Cells" (decrease by 50%) led by UV exposure, has capacity to protect and strengthen the hydrolipidic balance of the skin, decreases the inflammation. Unscented, can be used in conjunction with any other scented products
Proprietary blend
3.4 oz hand waxed bottle with special pump to prevent spills, keep out air and bacteria to ensure maximum shelf life, potency, and optimal dispensing amount
---