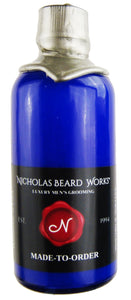 First Aide Powerful Botanical Extracts and Hyaluronic Acid-based Beard, Skin and Hair Serum
First Aide
Powerful botanical extracts and Hyaluronic acid-based beard, skin and hair serum providing in most cases instant effect with visible results.
Active ingredients:
Seaweed extract (France) known for its ability to provide treatment from the root to the tip of the hair, increases the volume, shine, silky feel, and suppleness. With protection from oxidative stress and other factors which cause hair aging, hair loss and scalp irritation, seaweed restructures the hair.
Anti-aging and defense shield (Switzerland) derived from the lower depth sea kelp acts as a DNA protector after UVA/UVB exposure, has an ability to inhibit the formation of "Sun Burn Cells" (decrease by 50%) led by UV exposure, has capacity to protect and strengthen the hydrolipidic balance of the skin, decreases the inflammation.
Hyaluronic acid (Sodium hyaluronate - most effective form of Hyaluronic acid with smaller than hyaluronic acid molecular size and is able to move more freely into the deeper layers of the skin. This is an advantage since sodium hyaluronate is a powerful humectant that attracts and holds on to water, making it the ultimate skin moisturizer)
Hydrolyzed Quinoa is a natural protein for hair color retention, conditioning, and protection. Quinoa  is considered a complete protein, containing seventeen amino acids, including all eight essential amino acids.The proteins in Hydrolyzed Quinoa penetrate into the hair shaft for powerful protection. Hydrolyzed Quinoa provides film forming and moisture retention benefits typical of other proteins, and in addition also helps retain hair color for beautiful, lustrous-looking beard.
Hydrolyzed Baobab Protein is a water-soluble, cosmetic grade vegetable protein extract made from the large seeds of the Adansonia Digitata fruit. The seeds are obtained via ethical and sustainable methods which support local communities in Africa. For the beard, Hydrolyzed Baobab Protein provides an anti-aging treatment including damage recovery, protection from damage, nourishment, and strength and conditioning effects. Hair becomes damaged through UV-exposure, heat, pollution, and stress. Hydrolyzed Baobab Protein has been tested on African, Brazilian, and Caucasian hair, and has been shown to have positive results in all 3 hair types.
VegeKeratinTM is a vegetable alternative to animal keratin. It increases hair strength, enhances elasticity, helps protect hair from harsh salon processes, makes beard look more healthy and shiny, and improves the comb-ability of beard. Keratin is a protein composed of 18 amino acids. It is one of the primary structural components of hair, nails, and the epidermis. Keratin keeps beard healthy and lessens damage. VegeKeratinTMis an alternative to animal-based keratin. It contains wheat and soy amino acids, carefully blended to mimic the functional ratios in human hair amino acids
Hydrolyzed Wheat Protein (naturally derived) is a cosmetic grade, wheat protein hydrolysate from natural renewable sources. It constitutes a unique hydrating complex offering a combination of moisture-balancing and film-forming properties that work synergistically to give beard better body and control, increased shine and highlights.  Its anti-irritant and protective properties give skin a smoother, softer feel. Its film forming benefits help maintain an optimum moisture balance in the skin and hair.
Silk Amino Acids PF (paraben free) - Hydrolyzed from pure silk fibers, silk amino acids have a lower molecular weight than hydrolyzed silk protein powders as they undergo a greater degree of hydrolysis. Due to their smaller molecular weight they are more penetrating and moisturizing to skin and hair. Highly substantive to skin and hair, Silk Amino Acids PF are highly hygroscopic and have excellent moisture binding ability. Free amino acids are known to penetrate into the upper layers of the skin as well as through the hair cuticle into the hair shaft. This draws moisture into these areas, improving skin and hair hydration. For hair, this results in increased flexibility and manageability, leaving a soft, natural look. Meanwhile, moist, hydrated skin is more supple and has a smoother appearance
DL Panthenol (Pro-Vitamin B5) - DL-Panthenol is effective for hydration, improvement of hair structure and adding luster and sheen to the hair.
Squalane oil (France), organic, cold pressed, made without pesticides, GMO's, or hexane.  Squalane is a light and stable version of olive oil squalene, hydrogenated to make it stable and non-oxidative. Squalane is found naturally in the sebum of human skin and is believed to lubricate and protect skin. It is an elegant emollient with exceptional spreading properties. Moisturizing your hair will help increase shine and prevent breakage. Hair has its own natural oils. Yet, weather, age, diet, and heat damage can dry out locks. Squalane will replenish your strands and protect your hair from further damage.
Unscented, can be used in conjunction with any other scented products
Deionized water
Proprietary blend
3.4 oz hand waxed bottle with special pump to prevent spills, keep out air and bacteria to ensure maximum shelf life, potency and optimal dispensing amount
---