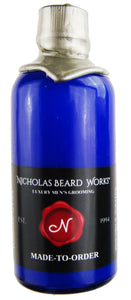 NBW Revitalizing Anti-Aging Hair Oil For Men and Women
NBW Revitalizing Anti-Aging Hair Oil For Men and Women
Squalane oil (France) Organic, cold pressed, made without pesticides, GMO's, or hexane.  Squalane is a light and stable version of olive oil squalene, hydrogenated to make it stable and non-oxidative. Squalane is found naturally in the sebum of human skin and is believed to lubricate and protect skin. It is an elegant emollient with exceptional spreading properties. Moisturizing your hair will help increase shine and prevent breakage. Hair has its own natural oils. Yet, weather, age, diet, and heat damage can dry out locks. Squalane will replenish your strands and protect your hair from further damage.
Arctic Cranberry Oil (Norway) Naturally grown in the Arctic tundra and hand-picked Arctic Cranberry contains a high concentration of antioxidants. Its size is smaller than the other species, and it can only be found in the wild in peat bogs and moist forest parts of the Arctic tundra, where it thrives in large numbers. Arctic Cranberry Seed Oil provides even higher amounts of tocotrienols than Lingonberry Seed Oil, and it includes the highest known natural concentration of Gamma-Tocotrienol of any known natural source, making it the most powerful tocotrienol source available. Aside from that, it has a practically optimal ratio of Omega 3, 6, and 9 Essential Fatty Acids, which are rapidly absorbed by the skin and confer excellent moisturizing and anti-ageing qualities on the material. By comparison, the Gamma-Tocotrienol content of regular cranberries is very low and is not particularly high compared to other seeds. Arctic Cranberry Seed Oil also contains Vitamin C and A, which are essential for the maintenance of healthy skin. Arctic Cranberry Seed Oil is very rich in Vitamin E, which is essential for the maintenance of healthy skin. The oil is non-GMO, and the tocotrienols are extracted by a proprietary process that does not require the use of solvents or toxic chemicals.  Another great benefit of Arctic Cranberry Seed Oil is that it is non-comedogenic, meaning that it will not clog your pores, and it will not cause your skin to produce excess oil. Arctic Cranberry Seed Oil is often used in the treatment of acne, and in the prevention of wrinkles. The oil has a soothing and regenerating effect on the skin, making it a fantastic choice for mature skin of any age. The product can also function as an inexpensive UV filter, which helps to protect the skin from the harmful effects of ultraviolet radiation from the sun. Arctic Cranberry Oil contains tocotrienols, a type of natural Vitamin E that can only be found in the Arctic marshlands and is hence considered a superfood. Arctic Cranberry has a tocotrienol level that is 40 to 60 times greater than that of the more well-known alpha-tocopherol, making it a one-of-a-kind supplement in terms of antioxidant activity. Tocotrienols are antioxidants that occur naturally in the environment and are members of the Vitamin E family of antioxidants. These phytochemicals have much stronger antioxidant properties as compared to tocopherols (more commonly found members of the vitamin E family). Because they prevent the disintegration of cell membranes, protect your skin from harmful environmental factors, and inhibit the breakdown of collagen, tocotrienols can help to slow down the aging process.
Bacaba oil from the Amazon rainforest is a cold pressed oil, greenish in color and slightly naturally fragrant with physicochemical properties similar to that of Acai berry oil, has powerful moisturizing agent with a high content of oleic acid (Omega 9) and unique properties such as light texture and easy absorption, high levels of behenic acid that has lubricant, emollient, and soothing properties, which help to restore the skin's natural oils and improve overall levels of hydration. Bacaba oil strengthens the hair follicles, helps to reduce dry hair, and prevents hair loss. It is also used for scalp health - with expressive fatty acid and protein content, key factors for keeping the scalp hydrated, nourished, and protected. Also Bacaba oil is an effective skin moisturizer, improves the skin's appearance, reduces trans-epidermal water loss, revives dry skin
Seaweed extract (France) known for its ability to provide treatment from the root to the tip of the hair, increases the volume, shine, silky feel, and suppleness. With protection from oxidative stress and other factors which cause hair aging, hair loss and scalp irritation, seaweed restructures the hair.
Plant Keratin OS improves hair strength and moisturizing effect in damaged hair. It also suppresses lift-up of hair cuticle and gives hair smooth and glossy appearance
Unscented, can be used in conjunction with any other scented products
Proprietary blend
3.4 oz hand waxed bottle with special pump to prevent spills, keep out air and bacteria to ensure maximum shelf life, potency, and optimal dispensing amount
---